NICU Parent Network is the premier US-based professional organization of NICU Parent Leaders who collectively represent the needs and best interests of NICU families. Together, we envision a world where every NICU family is an essential and integral member of their baby's care team.
AUTHENTICITY
Authenticity is the bedrock of all enduring relationships, inspires trust in who we say we are and motivates others to join our collective efforts. Therefore, we will ensure our actions & interactions in all aspects of our operations are conducted with transparency, genuineness, and honesty.
Diversity & Inclusion
Being inclusive & diverse anchor all that we do; we respect a diversity of people & thought & provide equal access to a range of perspectives in all NPN forums, initiatives and decisions.
Sustainability
Long-term organizational sustainability is critical to our success. Therefore, all strategic decisions will focus on continually driving and enhancing our positive and long-term impact in the communities we serve.
Integrity
Having a culture of integrity is crucial to establish a healthy organization and culture, so we will operate with professionalism and accountability for ourselves and our member organizations.
Being collaborative is an essential value within all our engagements. Therefore, we will actively work together & share relevant ideas, information & resources, both within the NPN network & with external partners, to achieve common goals and outcomes.
Family Integrated Care
is an approach to care in the NICU that fully involves the parents in all aspects of the baby's care. The NPN believes this approach to the care of the infant and family should extend to all guidelines, research, policy, advocacy, education, and support where nothing is created for infants and their families without an equal partnership with NICU Parent Leaders.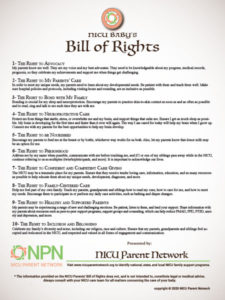 NICU Baby's Bill of Rights
NPN SPEAKERS BUREAU
Professional Speakers with Unique Experiences & Expertise
"NICU families were identified in two ways. First, Internet searches were conducted that generally identified active support or advocacy groups that specifically targeted NICU families. "Family" for...
read more
Thank You to Our Industry Collective Members
Sign Up to Receive News & Event Updates from NPN!
Join our mailing list to receive the latest news and updates!
---
By submitting this form, you are consenting to receive marketing emails from: . You can revoke your consent to receive emails at any time by using the SafeUnsubscribe® link, found at the bottom of every email.
Emails are serviced by Constant Contact
The views and opinions expressed by our members, affiliates, sponsors, and supporters do not reflect those of our organization, Board of Directors or staff. Nor does membership with or support of NPN reflect NPN's implicit endorsement of any programs, products, or services provided by our members, affiliates, sponsors, and supporters. The information provided on this website does not, and is not intended to, constitute legal or medical advice. Always consult with your NICU care team for all matters concerning the care of your baby.